THE HUMAN CONDITION, MATTERS
Bacon is a lover of design, code, and hard problems.
Design
UX consulting
UI/Product design
Marketing website solutions
Design strategy
Branding
Email design/development
Development
React
Elixir (intermediate)
Next.js
Gatsby.js
ES5+ JavaScript
Debugging
Flat-file CMSs
Web performance consulting
Webflow / Wordpress / Shopify
---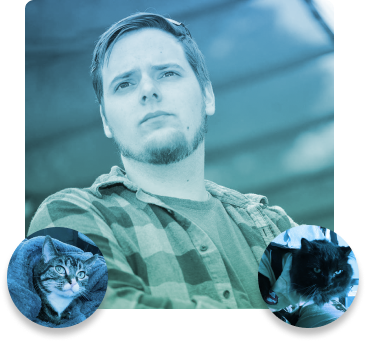 When Bacon isn't freelancin', he's either swinging a hammer on a home improvement project or growing massive tomato plants. Bacon has been a designer and developer across marketing and product teams for almost a decade. He loves designing for every medium but his favorite is the open web platform.
Bacon has skills across the board, from illustration to marketing to designing/coding websites and web apps. He has a knack for learning as he goes. He previously worked at TeamSnap for 6+ years as the Senior UX/UI Designer for the marketing team.
Bacon is originally from Yakima, WA, and now resides in the Portland area with his fiancee and 2 cats, experiencing everything that it has to offer, including—of course—coffee and a good microbrew with his homies. He likes to run and also nerd out over a good video game, film or TV show. If he had a superpower, it would be his ability to drink a pot of coffee without the jitters.
Song of the week
Daughter—Pearl Jam
Probably on the 3rd cup of the day
3
My process
Listen
Research
Concept
Create
Launch
Monitor & Iterate
Latest movie quote
Tony, trying to get you to stop has been one of the few failures of my entire life.— Pepper Potts, Avengers: Endgame